Turbo Grow Kits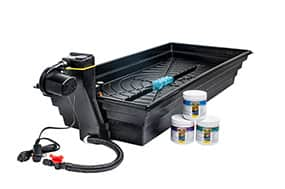 The Turbo Grow Kit by Supernatural Brand
When it comes to cultivating plants and agriculture I would always wonder when civilization would make a significant advancement, a great contribution for growers. Isn't it true the same handful of grow techniques have been since the beginning of time. Well, now you can grow the highest craft quality garden vegetables, herbs and flowering plants right at home for just pennies. Introducing the revolutionary new Turbo Grow Kit.
Turbo Grow – Incomparable Technology for Best Results
Turbo Grow's unique patented design makes it easy to grow the best plants faster, larger, and healthier than ever before. Turbo Grow has been developed over decades of intensive research and development, grower feedback, and leading scientific breakthroughs originating in the heart of British Columbia's world renowned hydroponic haven. Turbo Grow's gardening technique mirrors a similar technique proven to be the best grow method in ancient human history. We've modernized this same principle and engineered it for the 21st century. No other grow system on earth utilizes Turbo Grow's revolutionary patented nutrient delivery system.
Grow Larger Plants Every Time with Turbo Grow
The Turbo Grow blower is ground switch protected for safe operation. When turned on, it pressurizes the manifold injector's primary 1 to 100 ratio mixing reservoir, displacing the nutrient solution concentrate by one-third at each cycle into Turbo Grow's main reservoir. This incremental nutrient dosing reduces shock to your plant's roots. The nutrient solution then travels upward through eight strategically placed communication apertures into the aqueduct and then onto the grow platform. When the turbo blower shuts off, a series of air escape holes and an ingenious shuttle valve allow the nutrient solution to quickly drain into the system's residue free main reservoir. This great advancement in horticultural technique gives you the power of ultimate forgiveness and control by completely eliminating the most common problem in most gardens which is over or under watering, ensuring superior quality and performance that produces mouth-wateringly bountiful yields every time. It's both practical and sophisticated, yet easy to use. Turbo Grow grows plants significantly larger with superior quality while reducing the time it takes to harvest the kinds of plants that you love to grow.
Grow your plants in Turbo Grow, and there is absolutely no way you'll ever switch back.
Now shop for the Turbo Grow Kit system that matches your needs, and start growing like you never have before.
Turbo Grow Kits