Container Gardening to Save Time and Space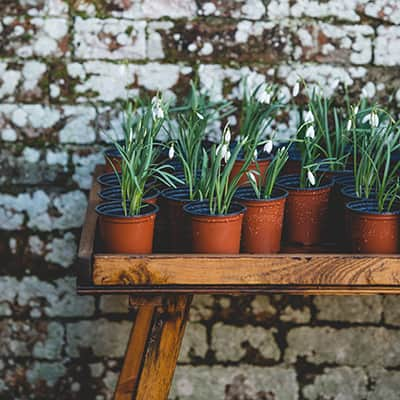 Enjoy More Nature in Your Life With These Container Garden Ideas
The power of being surrounded by nature is well-known. Gardening is associated with better health and happiness, and people who spend time around plants are generally more relaxed. Growing your own vegetables also serves as inspiration to eat healthier since all you have to do is step over to your container to pick a few green beans or pull up a carrot.
While you might have always dreamed of owning a garden, it's possible that you just didn't think you had the time or space to set one up. Container gardens help you make your vision a reality, and knowing what to do to get started helps you make sure that your new hobby is successful.
Top Reasons Why You Should Try Container Gardening
Container vegetable gardening gives you several benefits over the traditional method of putting plants directly in the ground. You can leave your containers outside so that your plants soak up the sunshine, and you can enjoy fresh air while you work just like you would with an outdoor garden. However, containers give you the option of bringing them inside if the weather turns cold or the plants start to wilt in the hot sun. With containers, you can enjoy seeing your garden thrive all year long since it won't be impacted by seasonal weather.
Growing your vegetables inside also helps to protect your plants from pests. You won't have to worry about rabbits or insects invading your garden when you keep them inside. You can also avoid having to add pesticides and other unsafe chemicals to the produce that you are growing to put on your plate. Knowing that your vegetables are safe to feed to your loved ones makes every meal more special.
With the right growing system like our Turbo Grow Kit, your container garden can also start to yield fruits or vegetables faster than it would outdoors. This is because you can use your container system to provide plants with all of the components they need to be healthy. From starting the seeds in potting soil developed to nourish plants in the early stages of growth to controlling the temperature and air flow, you can speed up the process of being able to enjoy the fruits of your labor.
Plants That Thrive in Container Gardens
Right now, you might already be wondering if your favourite plant can grow in a container garden. The best vegetables for container gardening are those that don't require too much space and that are easy to harvest. Here are a few ideas to get you started on picking out plants you want to grow:
Squash
Lettuce
Broccoli
Carrots
Radishes
Cucumbers
Essentially, the sky's the limit. At first, you might want to start with just one or two plants. Then, you can begin to add more as you develop your green thumb. Growing larger and healthier plants with a Turbo Grow Kit can also help build up your confidence about adding new plants to your garden space.
What You'll Need to Start Your Container Garden
Vegetable container gardening for beginners doesn't require a whole lot of supplies compared to what you'd need for an outdoor garden. First, you'll need to pick out your plants. You can start with seeds, seedlings or transplants when you use containers. Since you can grow the plants inside, you can even skip having to worry about whether or not the plant is ideal for the season.
Next, you'll need soil that is designed to stimulate and support plants at each stage of growth. You'll also need to provide your plants with growth food that helps to make sure that they can get the nutrients they need from the soil to sprout your favorite vegetables. As a beginner, you can simplify starting your container garden even more by picking up a kit that contains all of the components you need to plant the seeds and continue to care for your plants until harvest.
If you've developed an interest in container gardening, check out our online store for products to help your new plants thrive.